May 2023
A woman's body goes through so many changes during pregnancy. Mom's, after all, are creating a life. Breakfast is an important meal for everyone, but that is especially true for pregnant women.  
Breakfast helps expecting women fuel their day, support baby's development, help provide needed nutrition and maintain a healthy weight.
 The Texas WIC food package includes several healthy breakfast options for Pregnant women, to help support them during pregnancy, including:
Eggs

Breakfast Cereal

Yogurt

Fruits and vegetables

Peanut butter

Milk
The entire package includes more foods, check the entire package out on the Texas WIC website. If you are pregnant, apply for WIC on their website here.
 Breakfast is the first meal of the day after sleeping for roughly 8 hours. The energy boost from your first meal can help moms get the nutrition they need. Use WIC foods like milk, cereal and fruit to make this breakfast recipe, that's really perfect any time of day.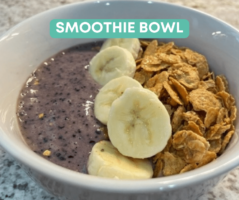 CEREAL, FRUIT SMOOTHIE BOWL
1/2 cup of breakfast cereal
2 cups fresh or frozen berries
1 banana
½ cup milk
Toppings such as almonds, berries or cereal
Blend frozen berries, banana and milk. Blend until smooth. Pour smoothie into a bowl and top with breakfast cereal or sliced fruit. Makes 2 servings
April 2023
Now Hiring for the Tyler, TX store! Apply using link below!
Growing company looking for friendly and energetic, full-time bilingual store clerk to join our team. Must work in a fast-paced environment. Some of the job duties include providing great customer service in English and Spanish while assisting customers to redeem their WIC benefits, scan and ringing up those items and helping customers to their car when needed. Store Clerks also must be able to lift up to 40 pounds, receive deliveries, organize and stock shelves, and keep the store clean and organized for easy restocking of inventory.
Job location/address:
Grocery Services North
225 East Amherst #700
Tyler, TX 75701
Apply on our website at: groceryservicesnorth.com/careers
Notice to applicants: Prospective employees will receive consideration without discrimination based on race, creed, color, sex, age, national origin, handicap or veteran status. Grocery Services North is an Equal Opportunity Employer.
Get your growing family the support they need with Texas WIC! 
The free program provides nutritional education, breastfeeding resources, and food packages for qualifying women and children up to age 5. And if you're expecting, you can start as soon as you learn the good news! To qualify, check out Texas WIC's updated income requirements for pregnant moms who reside in the state. Plus, check the link to Texas WIC below to start your application.
Start your journey toward a healthy lifestyle for you and your child with Texas WIC.
WIC INCOME REQUIREMENTS 2023
Households with the following gross yearly income per member:
1 household member can qualify making up to $26,973 gross yearly income per household;

2 household members up to $36,482 gross yearly income;

3 household members up to $45,991 gross yearly income;

4 household members up to $55,500 gross yearly income;

5 household members up to $65,009 gross yearly income and

6 household members up to $74,518 gross yearly income
Parents, step-parents, guardians, and foster parents of infants and children who are younger than 5 can apply.
Texas WIC can help you give your baby a healthy start with education, counseling and nutritional foods. The program provides FREE resources to help you along your pregnancy, including nutrition counseling and FREE healthy food packages to help ensure you and your baby have a healthy pregnancy. To see if you qualify for the program, apply online at texaswic.com/apply.
GROCERY SERVICES NORTH IS A SERVICE PROVIDER FOR THE WIC PROGRAM, NOT A PART OF THE WIC PROGRAM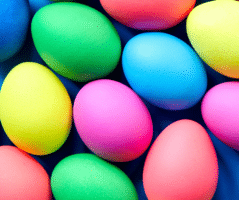 Making Easter Eggs is fun for kids and adults. Here are a few tips to make the perfect eggs and recipes to use when eating them.
Making the perfect Easter eggs involves a combination of boiling the eggs correctly, preparing a dye solution, and then decorating them creatively. Here's a step-by-step guide to help you create beautiful and festive Easter eggs:
Boiling the eggs
       

Place the eggs in a single layer in a large saucepan.

       

Cover the eggs with cold water, about an inch above the eggs.

       

Bring the water to a rolling boil over medium-high heat.

       

Once boiling, remove the saucepan from heat and cover with a lid.

       

Let the eggs sit for 10-12 minutes.

       

Transfer the eggs to a bowl of ice water to cool them down and stop the cooking process. Leave them in the ice water for at least 5 minutes.
 Preparing the dye solution
     

Choose your desired food coloring or natural dyes (such as beet juice, turmeric, or red cabbage).

     

In a small bowl or cup, mix 1/2 cup of boiling water, 1 tablespoon of white vinegar, and 10-20 drops of food coloring (or the equivalent amount of natural dye).

     

Stir the dye solution until the color is evenly mixed.
Dyeing the eggs
     

Use a spoon or egg dipper to lower a cooled egg into the dye solution.

     

Let the egg soak in the dye for 5-10 minutes, or until the desired color is achieved. The longer the egg is submerged, the deeper the color will be.

     

Carefully remove the egg from the dye and place it on a drying rack or paper towel-lined plate to dry.
 Decorating the eggs
     

You can use a variety of tools and materials to decorate your Easter eggs, such as markers, stickers, glitter, or paint.

     

For a simple design, you can use a white crayon to draw patterns on the eggshell before dyeing, which will create a resist effect and leave the drawn areas white.

     

You can also use rubber bands, tape, or stencils to create patterns and shapes on the eggs.

     

If you want to add more colors, repeat the dyeing process with different colors and let each layer dry in between.
 Displaying your Easter eggs
       

Once the eggs are completely dry, you can place them in a decorative basket, egg cups, or create an Easter egg tree by hanging them with colorful ribbons.
 Remember to be creative and have fun experimenting with different colors and designs. Happy Easter!
Once you have boiled Easter eggs, there are many delicious recipes you can make with them. Here are some ideas: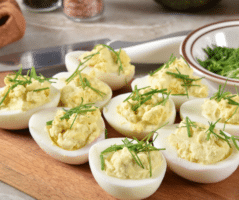 DEVILED EGGS
6 boiled Easter eggs
1/4 cup mayonnaise
1 teaspoon mustard
Salt and pepper to taste
Paprika for garnish
Cut the eggs in half lengthwise, remove the yolks and place them in a bowl. Mash the yolks with a fork, then mix in the mayonnaise, mustard, salt, and pepper. Spoon or pipe the mixture back into the egg whites. Sprinkle with paprika and serve chilled.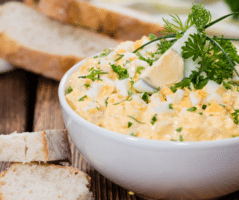 EGG SALAD
6 boiled Easter eggs
1/4 cup mayonnaise
1 teaspoon mustard
1/4 cup chopped celery
2 tablespoons chopped red onion
Salt and pepper to taste
Chop the eggs and mix them with the mayonnaise, mustard, celery, and red onion. Season with salt and pepper. Serve on bread, toast, or with crackers.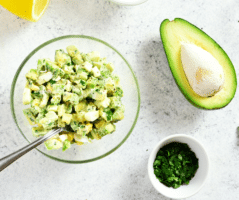 AVOCADO EGG SALAD
Avocado egg salad is a delicious and creamy twist on the classic egg salad. It's a perfect option for a light and healthy lunch or snack. Here's a simple recipe to make avocado egg salad:
6 boiled eggs, chopped
2 ripe avocados, diced
1/4 cup mayonnaise (optional)
1/4 cup chopped red onion
1/4 cup chopped celery
1 tablespoon chopped fresh cilantro or parsley
Juice of 1/2 lemon or lime
Salt and pepper, to taste
In a large mixing bowl, mash the diced avocados with a fork until they reach your desired consistency. You can leave it chunky or make it smoother, depending on your preference.
Add the mayonnaise (if using) to the mashed avocados and mix until well combined. The mayonnaise will add creaminess to the salad, but you can skip it for a healthier version or substitute it with Greek yogurt.
Gently fold in the chopped boiled eggs, red onion, celery, and cilantro or parsley. Make sure all the ingredients are well distributed throughout the mixture.
Squeeze the lemon or lime juice over the salad, and season with salt and pepper to taste. Mix well to ensure the flavors are evenly combined.
Cover the bowl with plastic wrap and refrigerate the avocado egg salad for at least 30 minutes to let the flavors meld together.
Serve the avocado egg salad on its own, with crackers, on toast, in a sandwich, or on a bed of lettuce. Enjoy this creamy and flavorful twist on a classic egg salad recipe!
Note: Avocado egg salad is best consumed the same day it is prepared, as the avocado may start to brown over time.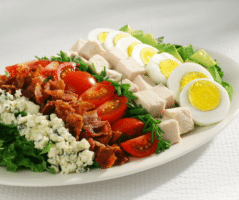 COBB SALAD
4 cups chopped romaine lettuce
2 boiled Easter eggs, chopped
1 avocado, diced
1/2 cup cooked, crumbled bacon
1/2 cup diced cooked chicken or turkey
1/2 cup diced tomatoes
1/2 cup crumbled blue cheese
Your favorite dressing
Arrange the lettuce on a large plate or platter. Top with rows of chopped eggs, avocado, bacon, chicken, tomatoes, and blue cheese. Drizzle with your favorite dressing and serve.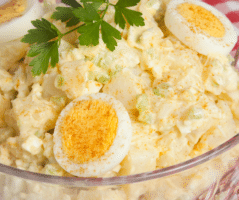 POTATO SALAD
4 cups cooked, cubed potatoes
4 boiled Easter eggs, chopped
1/2 cup mayonnaise
1/4 cup chopped pickles
1/4 cup chopped red onion
1/4 cup chopped celery
2 tablespoons chopped fresh parsley
Salt and pepper to taste
Combine the potatoes, eggs, mayonnaise, pickles, red onion, celery, and parsley in a large bowl. Season with salt and pepper. Mix well and refrigerate for at least 1 hour before serving.
 Enjoy these delicious recipes!
March 2023
Shepherd's Pie Is Budget-Friendly, Nutritious Family Favorite
This shepherd's pie is so tasty, you'll forget that it's meatless! This recipe is sure to be a new comfort food staple, and a great way to get your veggies in and use up any leftover mashed potatoes, or potatoes you may have lying around the kitchen.
VEGETABLE SHEPHERD'S PIE
1 tablespoon olive oil
½ cup diced onion
1 tablespoon minced garlic
1 ½ cups diced mushrooms
1 stalk thinly sliced celery
1 tbsp Worcestershire sauce
2 tablespoons tomato paste
½ cup chicken broth
2 cans mixed vegetables, drained
3 cups of mashed potatoes
½ cup shredded cheese
Seasonings: Paprika, Thyme, Black Pepper
Bring olive oil to medium high heat in a skillet then add onion and garlic, cook for about 3 minutes. Add mushrooms and celery, then worcestershire sauce, tomato paste, chicken broth, and spices. Stir and cook for about 10 minutes. Add canned vegetables, stir gently and bring to a boil, then remove from heat. Transfer to an 8 x 8 baking dish and spread evenly in the pan, flattening as you go. Add mashed potatoes on top & spread evenly.  Top with your choice of cheese and herbs if you like!
Bake in the oven at 400 degrees for 15 minutes, or until light golden brown. 
Allow to cool, and serve. Makes 4 – 6 servings.