Impress your Thanksgiving guests with this delicious stuffing recipe, where every bite is a grateful celebration of savory goodness.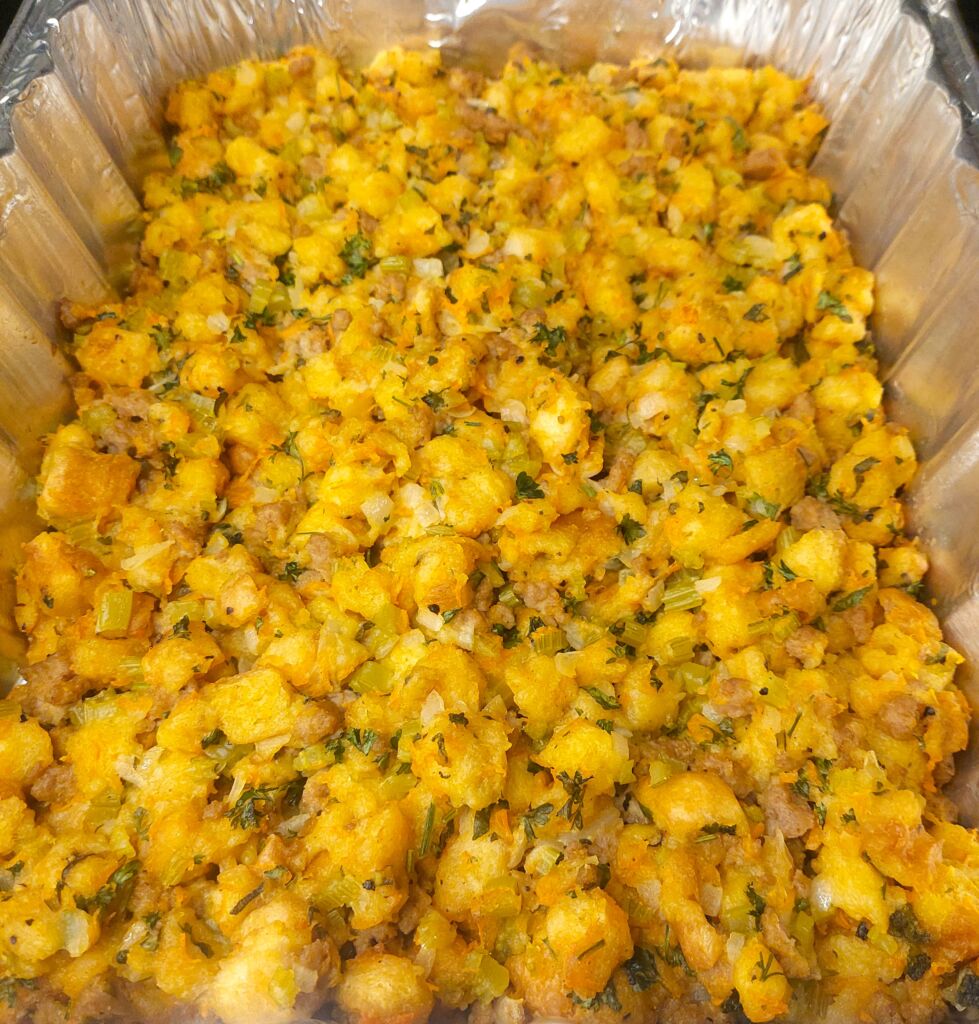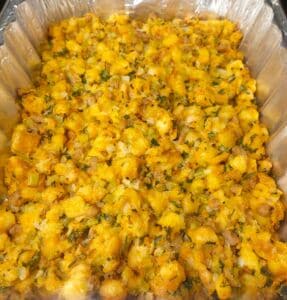 Stuffing:
1 loaf of bread*, cut into ½ inch cubes  
½ onion, diced (about 1 cup)
3-4 stalks celery, finely diced (about 1 ½ cups)
1 medium carrot, grated
½ lb ground sausage (I use Turkey sausage)
¾ cup unsalted butter
⅓ cup fresh parsley, finely minced
3 tsp fresh sage, finely minced
2 cups chicken broth*
Salt, Pepper, and Garlic Powder, to taste
NOTES: 
Bread: For best results, use a heavier bread like wheat bread, cornbread or sourdough, not a light and airy sandwich bread like Wonderbread.
Make ahead instructions: Prepare the stuffing 1 day in advance to give the flavors time to soak in. To make ahead of time, prepare as directed but don't bake it. Store in a covered casserole dish in the fridge. Before your Thanksgiving meal, remove the stuffing from the fridge and allow it to sit on the counter for 30 minutes to bring to room temperature, then follow the baking instructions. 
Vegetarian/Vegan: To make this vegetarian, leave out the sausage. To make this recipe vegan, use oil instead of butter and use vegetable broth instead of chicken broth. 
Cut the bread into cubes using a sharp serrated knife. Try not to smash the bread too much as you're cutting. Spread the bread cubes out onto a baking sheet to dry out for at least 24 hours, OR set your oven to 200 degrees F and cook for 2 hours to dry, tossing them occasionally.
Finely dice the onion and celery, grate the carrot, and mince the parsley and sage.
Brown the sausage and break it into small pieces as it cooks. Drain the sausage well and use a paper towel to soak up excess grease. 
Melt the butter in a pan on medium heat and add the onions and celery. Cook for about 5 minutes, stirring occasionally. Add in the carrots and cook for 3 more minutes. Add in the sage and gently stir in, cook until the sage is starting to wilt and release its flavors. 
Add the dried bread cubes into a mixing bowl, sprinkle in the parsley, add the cooked sausage, and gently mix together. Pour the veggies with butter over the dried bread cubes and sausage and gently mix again to combine. 
Slowly add in the chicken broth. Start with 1 cup and slowly pour small amounts of broth as you stir gently. It is important not to pour all of the broth in at once, as it will make soggy spots in the bread. You want to make sure the bread is slightly moist, but not overly wet. Add in your seasonings at this time as you're stirring.
Pour the stuffing into a greased casserole dish and cover with tin foil.
Bake at 350 degrees F for 30 minutes, then uncover and bake an additional 15 minutes. Enjoy your Thanksgiving stuffing!