September 2023
January 2023
Moms and moms-to-be all need savvy, time-saving hacks to save time, be healthy and to maintain sanity.
Infant and toddler moms don't usually have a lot of spare time. Moms often feel a lot of stress to take care of tiny humans. That's why we have come up with some great mom hacks to help save time while offering a little piece-of-mind.
Stress for expecting mothers can also be high. What can you eat? What should you not eat? It can be overwhelming. Not to mention, you are creating a human in your belly. That is very tiring.
PREGNANCY HACKS
Now is the perfect time to practice carrying a prepared bag (think diaper bag for moms). Except this bag will be filled with healthy snacks/water for mom. Here are a few ideas for your mom bag: water bottle, dry WIC-approved cereal – which is packed with iron and fiber. Other ideas for your "snack" bag: fresh fruit like bananas or peanut butter on whole wheat bread. Get more information about WIC foods and pregnancy here.
TIME SAVING COOKING HACKS FOR MOMS
Every mom loves a good kitchen shortcut. Here are a few ideas you can use in the kitchen to help you save time and maintain your sanity.
First up: homemade teething rings. When toddlers start to teeth, it can be painful for your baby and hard on mom. No parent likes a little one to cry in pain. Make homemade teething ring popsicles. The cold pop is perfect for sore gums. Plus, because you can make several at a time and freeze you will have treats for weeks to come. Here is a recipe you can use:
BERRY YOGURT POPSICLES
1 ½ bananas (mom can eat the other half)
16 ounces of yogurt (any flavor)
4 ounces of blueberries
Blend all ingredients in a blender until it is very smooth. Place yogurt mixture into popsicle molds. Freeze for at least 6 hours. Keep in the freezer for the next time your child needs a treat.
2. Here is another time-saving hack: make pre-made snacks for hungry toddlers. Moms know that one of your main roles as a parent is to give your child healthy foods. It can often feel like a full-time job. You can save time by making several pre-made snacks to keep on hand. Pre-cook boiled eggs to have on head in the fridge. These are great for children starting to eat real foods and older kids looking for a snack. For kiddos starting to eat table food, make sure you have easy foods you can grab when your baby is hungry. A few great examples are avocados and bananas that can be smashed for smaller children. Here are a few more ideas for snacks using WIC foods.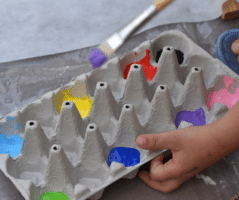 CRAFTY PROJECTS
Having a little fun can also be a great way to take a break and cut the stress. We have gathered a few hacks using containers from WIC foods. Use empty and cleaned milk and egg cartons for fun crafty projects. So are baby food jars. Here are a few ideas:
Turn your egg carton into a fun container for kid paint. Each egg holder can be for a different color. Your egg container could also be used to create a homemade sensory tray. Fill the egg carton with items with different textures that you can find around the house: a small ball of yarn, a block, a small piece of fabric. Just make sure the items are age-appropriate and are not a choking hazard for your little one.

For older kids, use the lids from your milk jugs to make checkers pieces. Just color the lid black or red. Save enough to make your own checkers pieces. Make a checkerboard out of cardboard or a piece of paper you have around the house.
Of course your imagination is the limit for using containers to help entertain your kids. Sometimes kids enjoy making toys out of the simplest items around your house.
The best mom hack of all is to get all your WIC foods in one easy stop at any Grocery Services North location. Since you won't have to go searching down long aisles to get all your WIC foods, you will save time and your sanity. Find a location near you.
Do you have mom hacks you would like to share? Drop them in the comments below. Use hashtag #GSNmomhacks
Looking for more blog articles about these topics? Check these out:
June 2022
Summer is in full swing. Que the fireworks because this July 4th is going to be HOT! We have summer WIC foods and fun activities your plans this holiday weekend.
If you are ready to kick off July 4th with a big bang, we have some great tips to help you cool down and chill and celebrate with your family this holiday weekend – all spotlighting foods WIC foods you can redeem with your EBT card.
The fun doesn't stop there. We also rounded up some family-friendly activities for the entire family. 
SUMMER WIC FOODS: PICNIC PERFECT (SPOTLIGHTING WIC INGREDIENTS)
Many people will fire up the grill this holiday weekend. We have the perfect grill addition and a few sides that go perfect with your family picnic.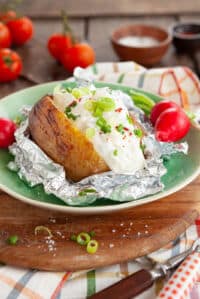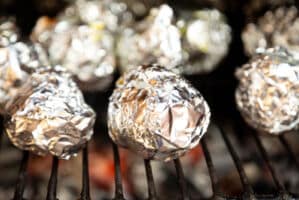 SUMMER WIC FOODS: GRILLED POTATOES
Wrap your russet potatoes up in foil and throw them on the grill. Before closing the foil, feel free to add your favorite seasoning blend and a little olive oil for some extra flavor. Place them on the grill rack and let them cook. You know they are done when a knife slides easily into the center of the potato. Remove from grill and let cool. Remove foil and get ready for the fluffiest, smokiest tasting "baked"  potato you can imagine. Add toppings (cheese, plain yogurt, salt, and pepper to taste) of your choice. 


SUMMER WIC FOODS: SALSA MADE WITH GRILLED PEACHES 
While your grill is out, slice open peaches ( a great summer WIC food) in half and throw them cut side down on the grill for this amazing recipe you will want to keep eating ALL SUMMER LONG.
4 ripe peaches pitted and sliced in half
1 red onion diced
2 ripe tomato diced
2 tablespoons chopped cilantro (optional)
1 lime juiced
Salt & pepper to taste
Preheat grill to medium-high heat. Brush the peaches with olive oil and place them cut-side down onto the grill. Grill for about 5 minutes until the peaches are soft but not mushy. In a bowl combine the remaining ingredients. Remove hot peaches from the grill. Let them cool before dicing them. Add to bowl and mix with remaining ingredients. Serve.


INDEPENDENCE DAY FAMILY FUN 
Spending time with loved ones is the best medicine. You don't have to spend a lot of money to put a smile on a kid's face and enjoy quality family time. In fact, sometimes the simpler things are the best.  Here are a few ideas we loved for spending extra quality time with the family this holiday weekend. 
DON'T WASTE TIME, GET YOUR SUMMER WIC FOODS TODAY!
With so much family fun planned, stop by any Grocery Services North locations to pick up all your WIC groceries in one easy stop. Don't search aisles for WIC-approved foods. Grocery Services North caters to WIC clients, and everything in the store is WIC approved. You will be in and out with your groceries for your family picnic. Find a location near a WIC clinic near you on our website.