Take Home These Great New Products Today! Grocery Services North is now offering several new fruit and vegetable options in our stores. Texas WIC is also offering $35 fruit and vegetable benefits per eligible person starting June 1 through September. ( Learn more about these expanded fruit and vegetable WIC benefits in this blog post.) The added WIC benefits means moms can take home even more produce each month,  including these products that are already in our stores in Dallas, Waco, Tyler, and Longview.  Grocery Services North's new WIC products (fruit and vegetable product)  can help moms get healthy, quick meals on the table for their family.  Here is a look at the items you can now take home, including a few ideas about how to serve them up on your kitchen table.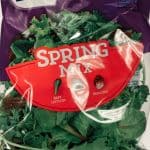 Dole Spring Mix Bags This delicious salad mix is perfect for a quick meal during the summer. Mix in more fresh fruits and vegetables like bell peppers, tomatoes, onions and fresh apples or oranges for a very healthy and super fast summer meal. Best Choice Yellow Cling Diced Peach Cups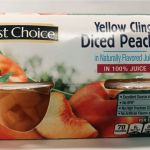 These peach cups are the perfect side or snack. Place the cups in the refrigerator for a cool treat on a hot summer day. They are also the perfect topping for a nice bowl of oatmeal.  Plus, kids love them!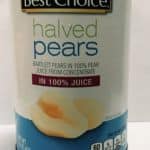 Best Choice Canned Halved Pears These canned pears are so versatile. Eat them plain or in a delicious recipe. Check out these 5 recipes for canned pears from the USDA, including how to turn canned pears into "Pear Party Salsa," a "Pear Quesadilla,"  a "Cobb Salad with Pears" and "Frozen Pear Pops." The possibilities are endless.  Frozen Sliced Peaches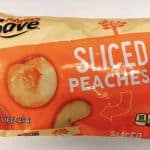 Not many foods offer up the taste of summer like a peach. These frozen peaches can be turned into a delicious smoothie. Add a handful of frozen peaches, yogurt, milk and ice cubes into a blender and mix and you have a nice cold treat in a glass.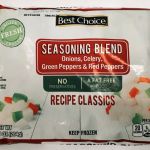 Best Choice Frozen Seasoning Blend There isn't a better short cut to dinner than these frozen mixed vegetables. Add them to almost any dinner for a quick shortcut with added flavor. They can be added to pasta dishes, rice and beans for a flavor power punch without having to do all the vegetable dicing on your own.   Visit a Grocery Services North location today to easily pick up all your WIC groceries. Our hassle-free WIC grocery shopping experience gives mom's more of what they need the most, time. You can find our locations conveniently located near WIC clinics. Visit us online to find one near you.