Try This Recipe For Whole Wheat Pasta (A WIC Food) The Whole Family Will Love
It's summertime. That means parents need healthy, fast, no-fuss recipes that are also kid-friendly. If you are looking for a quick meal using WIC foods, try this pasta recipe. You may find yourself using this recipe again and again this summer.  It's easy, fast and doesn't heat up the kitchen during those warm summer months. It's great for lunch, dinner and makes enough for leftovers. The best part, it features several WIC foods.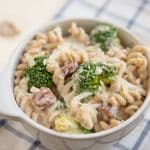 WHOLE WHEAT PASTA AND BROCCOLI
1 16oz box of Whole Wheat Pasta, any kind (elbows, bow ties, spirals or even spaghetti)
3 cups of  Broccoli, fresh or frozen works
4 tbsp Butter
3 cloves Garlic, minced
2/3 cup Parmesan cheese, shredded or grated
1.5 to 2 cups of reserved Pasta water
Cooked Boneless Chicken, optional
Cook pasta according to package directions. When you have about 5 minutes remaining, add the broccoli.  Once broccoli is tender, drain water In a large colander. Use the cooking pot to melt the butter on low heat. Add minced garlic and saute for a few minutes, stirring often. Add pasta and broccoli back into the pot. Add cheese and pasta water. Stir until the cheese is mixed thoroughly. Mix in cooked, cut up, boneless chicken chunks if using. Enjoy! Find more great recipes using WIC foods on the Grocery Services North blog page. Grocery Services North helps make shopping for WIC foods easy for mothers. You can find a location near WIC clinics by visiting our locations page online. You can apply online for Texas WIC by visiting the organization's website at TexasWIC.org.