Holiday Recipes Featuring WIC Fruits, Vegetables To Make This Weekend
There's no better time to start breaking into your summer recipes than Memorial Day weekend. The season offers so many great fruits and vegetables that are perfect to serve up as the weather heats up.  We are spotlighting several holiday recipes using WIC foods perfect for this weekend and for the months to come using some of our favorite fruits and vegetables.  These cool and refreshing treats are fun for kids and are easy to make.
HOLIDAY RECIPES USING WIC FOODS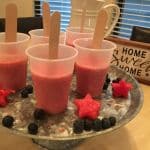 YOGURT FREEZER POPS 
12 oz of Fresh or Frozen Fruit (strawberries with stems removed and cut in half before blending or blueberries are our favorites)
2 cups of Plain Yogurt
¼ cup of Honey (omit if serving to children younger than 1 years old)
Puree fruit in a blender. Add yogurt. Add honey (if using) and blend together. Pour pops into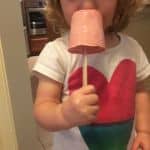 molds of your choice (you can use disposable plastic cups, ice trays with wooden sticks or pop molds from the store). Freeze for 6 plus hours. When ready to eat, you can loosen the pop  from mold by running it under warm water for a few minute
s to remove it from the disposable cup, ice tray or mold.  Memorial Day (and summer) is the perfect time to cook outside with family and friends. So fire up the grill for this healthy and delicious recipe spotlighting WIC vegetables and even a fruit!

VEGGIE KABOBS
Zucchini slices Yellow Squash slices
Fresh Mushrooms
Onion, quartered
Pineapple chunks
Bell Pepper chunks 1/3 cup
Olive Oil 1½ teaspoons
Dried Basil ¾ teaspoon
Dried Oregano
½ teaspoon Salt
¼ teaspoon Black Pepper
Garlic Powder, to taste
8 wooden/ bamboo skewers or metal skewers. You can also use an aluminum foil tray on the grill.  
Soak wooden skewers in water for 20 minutes. Preheat grill for medium heat and lightly oil the grate. Place vegetables of your choice, including these options:  zucchini, squash slices, mushrooms, onion, tomatoes, pineapple, and bell pepper onto the skewers. Mix olive oil and seasonings into a bowl. Brush onto vegetables. Cook vegetables on a preheated grill until done, turning and reapplying oil as needed for about 15 minutes.   Turn your beans into a salad with this next recipe. It's a delicious way to eat your beans in the summertime.  The added vegetables also add a lot of flavor to this side.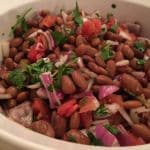 PINTO BEANS
1 ½ cups Dried Pinto Beans, soaked overnight and drained 2 tablespoons
Salt 2 medium Tomatoes, chopped
1 medium Onion, thinly sliced
3 tablespoons fresh Lemon Juice
1 tablespoon Lime Juice
1 teaspoon Salt
¼ cup Olive Oil
1 clove Garlic, minced (or garlic powder to taste)
¼ cup fresh Cilantro, chopped
Pepper to taste
After letting dried pinto beans soak overnight, drain them. Place beans in a large pot and cover with fresh water. Bring to a boil. Cover and simmer for 30 minutes. Stir in salt and cook for another 30 minutes, until the beans are tender. Drain beans. Let beans cool. Combi
ne lemon juice, lime juice. Add olive oil gradually until mixed well. Add garlic and cilantro. Pour dressing over warm beans and toss. Add chopped tomatoes and onions and toss well.
Get WIC Foods For Your Memorial Day Recipes at Grocery Services North
Get all your WIC groceries at Grocery Services North locations in Dallas, Waco, Tyler, and Longview. Find a location near you online. Find more great recipes on our blog.