Looking for new, healthy lunches using WIC foods? We have 4 new recipes to help make your lunch a little more exciting.
These easy and quick, less-fuss recipes are easy to make and perfect for prepping early in the week to make your lunches easy and fast to grab. Afterall, nobody wants to waste precious time during the week fussing over cooking. If you are meal prepping, consider our notes at the end of each recipe to help make it even easier.
The best part about all these recipes is they are easily adjustable to add or subtract some of your favorite ingredients to make it perfectly yours. Here are 4 lunches with WIC foods: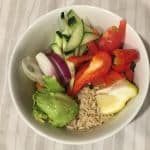 VEGGIE RICE BOWL
1 Cup Brown Rice, cooked
1/2 Cup Sliced Cucumbers
1 Sliced Tomato
Sliced Onion
1 Avocado
1/2 cup Cooked Green Peas
2 teaspoon Olive Oil
Juice from a Lemon or Lime
2 teaspoon Dijon Mustard
Salt and pepper to taste
Cook rice according to package directions. Put cooked rice in a large bowl. Slice all vegetables and add to the bowl with the rice. Make a dressing in a separate bowl by combining olive oil, lemon or lime juice and dijon mustard. Mix dressing into the rice and vegetable bowl. Add salt and pepper to taste. Makes 2 bowls. Enjoy!
MEAL PREP TIP: To make this recipe faster, prep the dressing in advance and store in the refrigerator. You can also pre-cook the rice and store in the fridge. Slice and dice cucumbers, tomato and onion (along with cooked peas) when prepping and store in the refrigerator. Add avocado right before eating.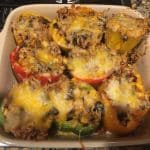 BEAN & VEGGIE STUFFED PEPPERS
4 Bell Peppers
1 tablespoon of Olive Oil
1/2 cup Onion, Diced
½ cup of Corn, optional
1 15 oz can Black Beans, drained and rinsed
2 cloves Garlic, minced
1 tsp Cumin
1/2 tsp Chili Powder
1 8 oz can of Tomato Sauce
1 cup cooked Brown Rice
1 cup of Cheese, shredded
Preheat oven to 350 degrees. Remove tops from peppers. Scoop out and clean the inside of the peppers. Saute onions in olive oil until they are tender. Add garlic and continue cooking for another minute. Stir in mashed black beans, cooked corn, cumin and chili powder. Add tomato sauce and cook for 1 more minute. Remove from heat and stir in cooked rice. Fill peppers with the mixture and place inside a baking dish. Top each pepper with shredded cheese and bake for 30 minutes or until the cheese is melted.
MEAL PREP TIP: This meal can be cooked a day in advance and stored in the fridge. Reheat before serving.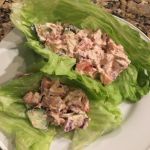 LETTUCE TUNA SALAD WRAPS
¼ cup diced Bell Pepper
¼ cup diced Cucumber
¼ cup diced Onion
1 can of Tuna, drained
¼ cup of Mayonnaise
Salt and Pepper to taste
4 large torn Lettuce Leafs
Mix all ingredients together in a medium size bowl. Chill before serving. Scoop desired amount of tuna salad into a large lettuce leaf and roll up. Enjoy!
MEAL PREP TIP: Tuna can be made and stored in the fridge for a few days.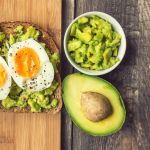 AVOCADO, BOILED EGG ON WHOLE WHEAT TOAST
1 slice of Whole Wheat Toast
1 Egg, boiled
½ Avocado, mashed
Salt and pepper to taste
Boil egg in water for 10 minutes, until cooked. Drain, rinse and cool before removing shell and slice. Mash the inside of avocado and spread onto toast. Place sliced boiled egg on top of avocado toast. Season with salt and pepper and serve.
MEAL PREP TIP: Boil egg in advance and store in fridge.
Interested in joining Texas WIC? Apply online at TexasWIC.org. Shop Grocery Services North to easily pick up WIC groceries. Learn more about the products Grocery Services North offers. Also, learn more about Grocery Services North online.