Spotlight: WIC, Avocados + Recipes
Avocados might be one of the most versatile fruits at the store.   They can shine in a wide range of recipes, like the all-time fan favorite: guacamole. This popular fruit can also be a star ingredient in everything from tuna salad to pasta. It's even hard to find another fruit that tastes better eaten plain. It's no wonder why they are so popular with kids and adults alike. Avocados can take standard recipes and elevate them to a new level (like a lunch wrap or even a grilled cheese) or can add a little extra pizazz to a standard family favorite like tacos or even eggs.   Because they are loaded with nutrition, it's a good reason to mix them into breakfast, lunch or dinner. Unlike most other fruits, they are packed with monounsaturated fatty acids and may help reduce cholesterol levels. They are also full of fiber, potassium and other nutrients.   But like all fruits, avocados are also a WIC-approved food. If you haven't used your WIC benefits to pick up this versatile, nutritious fruit, we are going to give you a few more reasons (or recipes) to pick them up next time you visit Grocery Services North. One popular avocado recipe having a moment in the online spotlight are baked avocado egg boats. If you haven't tried this yet, it's a fun recipe for kids and adults alike. Of course, like any recipe, it's easy to make adjustments to add toppings you love. We will add a few variation options into our recipe for you to consider.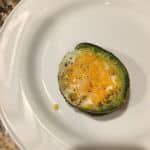 BAKED AVOCADO EGG BOATS
2 avocados, ripe and ready to eat 4 eggs ¼ cup grated cheese of your choice Salt, Pepper to Taste Preheat the oven to 350 degrees. Wash avocados and cut in half. Remove the seeds. Remove about a tablespoon from each half from the center of each avocado. Reserve the scooped out inside for another recipe like guacamole or to spread on a sandwich. Put avocado halves in a baking dish. In a separate bowl, crack eggs. Spoon 1 yolk into each avocado half. Add some of the egg white to fill the avocado halves. Bake until whites are set and yolks are not running (about 20 to 25 minutes). You can cover with foil if avocados begin to brown toward the end of cooking. Top cooked avocados with grated cheese of your choice and salt and pepper. Enjoy! FUN OPTIONAL TOPPINGS: Sauteed diced bell peppers, sauteed diced onions, salsa, chopped green onions or cilantro or even crumbled bacon bits can be added at the end to top of this delicious recipe. This is a perfect recipe to change up each time to find your favorite combo. 
AVOCADO TOAST 3 WAYS
Avocado toast is a very popular way to eat avocados. Spread it all over your whole-wheat toast for an amazing snack, breakfast or lunch. But if you want to change it up a bit are a few variations you might want to try:
Add a cooked egg (anyway you like it – boiled, over easy or scrambled) Eggs and Avocado toast are a great combo.

Fresh, sliced tomatoes is another great addition. Add a few slices and sprinkle with your favorite seasoning (salt, pepper or even a dried Italian mix .

Add a salad on top. Mixed greens, sliced cucumbers, which add crunch and texture. This combination is great on a hot summer day. It's an easy, healthy meal.
Shop for avocados and other WIC foods at Grocery Services North. Find locations and products on our website. To apply for Texas WIC, visit them online at TexasWIC.org.